department
Physical Medicine & Rehabilitation
Physical Medicine and Rehabilitation (PMR) also known as Physiatry, is a modern medical speciality that seeks to enhance and restore functional ability and improve quality of life of patients of all ages who have suffered injury or disability.
Physiatrists or PMR physicians lead a team of professionals for providing patient centred, team based care for optimal treatment for patients following brain, spinal cord, nerve, muscle or tendon injury. They also specialise in diagnosis and treating chronic pain, musculoskeletal injuries and workplace injuries.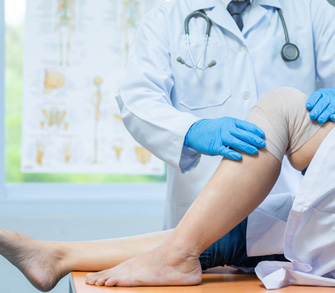 Our team of passionate rehab professionals in the PMR department includes physiotherapist, occupational therapist, speech language therapist, psychologist, dietician, orthotics and rehab nurse. Our PT gym provides modalities for pain relief, gym equipments for mobility issues. Our Wellness Clinic provides fitness, weight loss and wellness packages to meet the specific needs of our clients. It is well equipped with body electrical impedance analyser, weight loss machines as well as gym equipment.
OUR VISION: 
Our vision is to bring quality rehabilitative services to persons with disabilities or chronic pain and improve their quality of life.
OUR SERVICES: 
Our department provides outpatient and inpatient services starting from the ICU, through hospital discharge and beyond for our patients.
Neuro Rehab: Parkinsonism, pediatric development disorder, muscular dystrophy.
Muscular Skeletal Rehab : low back pain, Neck pain, Shoulder, knee and small joint pain.
 Rheumatology rehabilitation and interventional pain management
Acute and chronic pain management with nerve blocks, prolotherapy and platelet rich plasma (PRP) injection.
Critical care and Cardio Pulmonary Rehab : COPD, Bronchial Asthma, Bronchiectasis, Post Covid, Post MI, Post cardiac surgery.
Gynaecology Rehab: Prenatal, Postnatal exercise, stress incontinence.
Obesity Management : Multimodal approach with diet, physical modalities and exercise.
Fitness & Wellness: Comprehensive assessment and scientific wellness program to improve posture, tackle pain, correct workspace ergonomics and age with finesse.
PHYSIOTHERAPY SECTION: 
At Sanjivani Physiotherapy, our goal is to provide neurology, orthopaedic, cardiopulmonary and critical care facilities to take the patients on a path of quick recovery and health. We aim to improve health, optimize functional performance and restore participation in life's activities with individuals who have disabling conditions and diseases. Our well trained physical therapists and PT assistants will address your every concern regarding mobility.
SERVICES 
Inpatient and Outpatient Rehabilitation
Cardiac Rehabilitation
Pulmonary Rehabilitation
Neuro- rehabilitation
Fitness and Health
Paediatric Care
Geriatric Care
Pain Management
Sports injury Rehabilitation
Orthopaedic Rehabilitation