department
Gastroenterology
Gastroenterology focuses on the entire digestive system which includes the oesophagus, stomach, intestines, colon, pancreas, gall bladder, bile ducts as well as liver and anus. The disorders afflicting all these organs from top to bottom are so extensive that it requires comprehensive diagnosis and treatment. At Sanjivani Multi Speciality Hospital, Expert gastroenterologists Centre of Excellence in Gastroenterology are at the top of their game in this domain.
The Department of Gastroenterology and Hepatology at Sanjivani Multi Speciality Hospital is committed to provide healthcare services to patients with diseases of the digestive system. Our gastroenterology & endoscopy specialists diagnose and treat diseases and disorders of the oesophagus, stomach, liver, pancreas, duodenum and small and large intestine.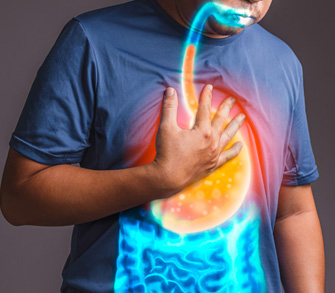 A dedicated team is always there for advanced services as diagnostic and therapeutic upper GI endoscopy, colonoscopy, enteroscopy e.g. Variceal banding, pile banding, glue therapy, stricture dilatation, ulcer/bleeding emergency therapy, foreign body removal, stent placement, polypectomy, APC etc.
State-of-the-art endoscopy suite is there with all latest equipment and automatic endoscope washers to ensure patient safety.
Our aim is to be a care provider of first choice, for the referring physicians as well as for the patients who seek surgical and medical management for gastroenterology and liver diseases.
Available Treatment and Facilities
Colonoscopy
Endoscopy
All Types Of Diagnostic & Therapeutic Upper Gi And Lower Gi Endoscopic Procedures
EUS – Diagnostic And Therapeutic
High Definition Endoscopy