department
Pediatrics
The healthcare needs and requirements of pediatric population differ widely from that of an adult. From birth till 18years of age, your child may require specialised care. Sanjivani multispeciality  Hospital comprises of a team of highly specialised medical professionals who are experienced in taking care of chronic disease management, acute illnesses, injury, mental or behavioural disorders and rehabilitation. We have considerable experience in dealing with and treating young patients and have the required skills to treat childhood illnesses and diseases. Our paediatric outpatient clinic also extends specialised care to premature babies and newborns who need special care because of health conditions that require close monitoring.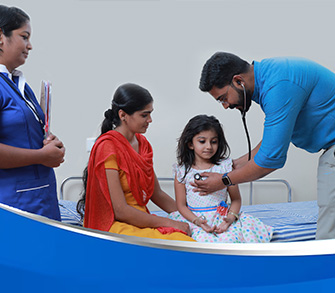 We have ultramodern equipments and infrastructure on par with the other hospitals. The neurology department is fully equipped with EEG, and we use these facilities in the Pediatric department all the time for our patients.
Our primary care physicians form long-term relationships with their patients and become experts in their health, helping children navigate the physical and mental challenges of growing up while promoting overall wellness.