department
General & Laparoscopic Surgery
General Surgery is a discipline that requires knowledge  and responsibility for preoperative, operative and post operative management of patients with a broad spectrum of diseases including those which may require nonoperative, elective or emergency surgical treatment.
Our Department of General and Laparoscopic surgery at Sanjivani Multi Speciality Hospital is well known for its expertise to effectively handle all kind of surgical cases be it simple debridement procedure or complicated Open and Laparoscopic surgeries. Built in with an effective team of General & Laparoscopic surgeons, Anaesthesiologists and well trained nursing staffs, the high quality care of the patient before during and after surgery is well maintained.
Our Advanced Laparoscopic procedures include Laparoscopic Hernia Repair, Laparoscopic Cholecystectomy, Laparoscopic Appendectomy,  Laparoscopic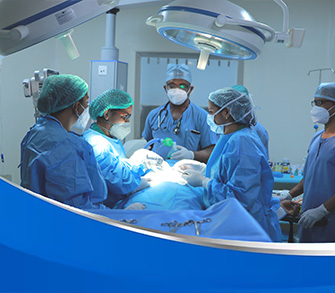 Hysterectomy. In addition to Laparoscopic procedures our surgical team is well known for its expertise in Ultrasound Guided Radio frequency Ablation and Sclerotherapy for treatment of Varicose Veins,Stapler Haemorrhoidectomy for piles, STARR procedure and Delorme's procedure for rectal prolapse and other
Gastro intestinal surgeries, Thyroid surgeries, Breast lump surgeries.
Our team always works towards evidence based treatment alongwith latest minimally invasive technologies to ensure quality care for you with faster recovery and lesser chances of complications.